Hi


Are You Enjoying Summer?


Enjoying summer usually includes time for rest and relaxation. A time filled with watching baseball games, fun in the sun, family barbeques, ice cream cones, and catching fireflies. A time to kick back and leave stress behind. I thought I would stop by and share a few portable snacks that are easy to make and take along as you enjoy nature's beauty.

Pack a good book or your tablet so you can catch up on some reading. Find some entertainment for the kids and don't forget the sunscreen.




Yogurt Parfait
Ingredients
Fresh berries or chopped favorite fruit--apples, peaches, etc.
6 ounces vanilla yogurt
3 tablespoons granola

In a tall, clear plastic glass with lid, create layers by starting with yogurt on the bottom, followed by 1 tablespoon granola and 1/3 of the yogurt. Repeat the layering 3 times. Top with lid. When transporting, don't forget a spoon!
Healthy Snack Mix
Ingredients
2 cups crispy rice cereal
1/2 cup peanuts
1/2 cup raisins
1/2 cup sunflower seeds
1/2 cup chopped pretzels
2 tablespoons margarine, melted

Place all ingredients in a 1-quart zip-style plastic bag and seal. Shake until mixed. Serve in a medium-size bowl or individual cups.



Here are a few articles that I have written while taking time to enjoy summer.



Lessons I learned on the Golf Course

Effective Stress Management Strategies I Learned While Playing Tennis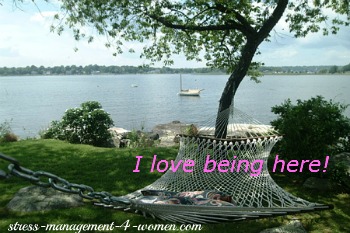 Stress Reducers for Moms: How to Enjoy Summer



Enjoy summer and stay safe. Time passes very quickly--too quickly sometimes. Live in the present moment and take time to notice your surroundings. I wish you the best and will be back in touch soon.

---
Thanks for reading this newsletter.
I will drop you another note next month. For further information about stress management, join the dialogue on my Facebook Fan Page.

Enjoy and stay calm,
Ann
Stress-management-4-women.com