Learn How to Relieve Stress
Pamper Yourself!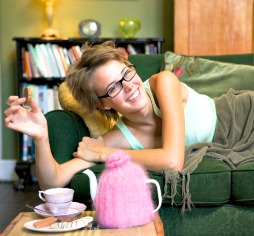 When people ask me how to relieve stress, I tell them two things.  I tell them (1)to share the company of others and (2) to take time for themselves.  It is always beneficial to talk over stressors with others who understand.    It is reassuring to know that others have experienced very similar situations. Children acting up in public can become less traumatic in retrospect when shared with other moms.  But finding solitude is also a way for women to get away from the daily hassles and rejuvenating. 
Develop a Support Network of Friends
Women always look for ways to reduce stress. Surround yourself with family members, friends and/or supportive co-workers.  This group of individuals can help you through difficult and stressful times, even if it is simply a bad day at the office, a non-ending day of screaming kids, or a more serious time filled with loss or chronic illness. 
Spending time with others helps deflect the feeling of loneliness.  Join together with fellow empty-nesters, or a local garden club or develop a fellowship with new-moms.  The key is to find things in common for you to problem share together.

Create Your Own Day at the Spa
How to Relieve Stress?  Take a day off and take care of yourself.  Send the kids to the sitter.  Time for you.  Get out the bubble bath.  Draw a bath and pour in some extra bubbles.  Add your favorite music from your IPod or radio. Light a few nice aromatic candles--lavender scent is nice.  When you are done soaking, dry off and dress in some comfortable clothes--sweats and a tee shirt or whatever you consider your comfort clothes.  You  might want to give yourself a facial and take some time to give yourself a manicure and pedicure.

Find a few good movies that you enjoy, or a book that you have been meaning to read.  Forget about the clock.  For food, why not check the internet for some "spa day recipes" or indulge in your own favorites.

A spa day can be shared with others if you like.  The purpose of the day is to spend time on yourself and remember that not only are you worth it, but you remember that you are content with yourself.   If you prefer, you can visit a spa and enjoy the day with others pampering you, but actually, the time spent in solitude is sometimes more enriching, just to  regain a sense of who you are.
Visit this website, Wildflowers Aromatherapy and Gifts, for some great products to include for your spa day and to use anytime you have had a long and grueling day.  They have many products show you how to relieve stress, such as their body wraps, warming blankets, stress misters and their famous warm-up animals, to banish tension, anxiety and restore a sense of calm.

How to Relieve Stress through Biofeedback

Try These Relaxation Techniques