Stress free Organized
Home and Work are Clutter-free
Stress Free Organized. Clearing your environment of excess clutter will lower your stress level and help you function much better.  Having clutter around can be a constant visual reminder that you are not in control of your environment. By simplifying your home and work spaces, you will reduce the stress level along with the clutter.  People feel calmer when things are in order.
Organize Your Home Space
Clutter is a big problem for us in this 21st century. In the United States our population has so much stuff that the National Association of Professional Organizers says we spend one year of our lives looking for lost items.  Recent reports indicate that 23% of adults say they pay bills late (and incur fees) because they lose them!!

Take a fresh look at your home and objects on display. Notice if have been saving things that no longer have value to your lifestyle and can be stored, sold, or given away.   Organizing your belongings and eliminating clutter makes you feel more in control of your situation, and less distracted.
Our household environment can  assist in stress relief if we organize it appropriately.  Take time to make certain that your world around you is providing a positive source of energy rather than a draining source. 
Household management strategies reduce stress levels.  Create regular household management routines so that you can keep up with the housework, get things done and know what work lies ahead.  Having routines that you follow weekly, allows you to become more efficient at getting the work completed.  It will allow more free time. 
Organize Your Work Space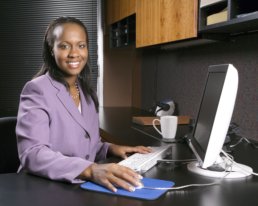 Only keep your current project materials out on your desk.  You can only focus your attention on one thing at a time.  Period.  Your desk should be kept free of other project distractions so that you can focus on completing the current assignment accurately and efficiently.  You will  make less mistakes if you are not worrying about what else you have to complete.  Put the other projects away until you are ready to work on them.
 Watch what clutter you add to your work environment. Mail, newspapers, brochures and work assignments--the paper can pile up fast.  Be careful and sort as soon as you can.  And think before you buy.  Ask yourself, "do I really need this?"  Or, "Can another item that I already own, fulfill this need?"  Organizing your workspace will help you become more productive and able to accomplish more.

Organize Your Projects
Use a time organizer or day planning system regularly.  I use planning journals to include everything from personal appointments, business schedules, menu planning and even my dogs' schedules.  Having things in writing helps me stay on track.

Put materials away after you have finished using them.  Make sure that every item has a permanent home and after you have used something, put it back where you found it.  This is a great way to stave off clutter and establish a wonderful clutter-free maintenance habit. The more uncluttered you environment is, the more uncluttered your brain becomes.
From Stress Free Organized to Home Page.
Keep Yourself Stress-free Organized, Managing Stuff