5 Menopause Stress Busting Tips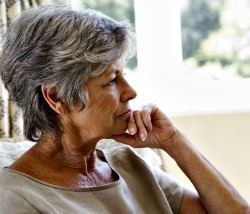 Menopause stress is a combination of stress from various  midlife demands. For women, dealing with stress in midlife includes such challenges as physical hormonal changes, job pressures, empty nest syndrome, over scheduled teens, and caring for elderly parents--just to name a few.  Although menopause  is a natural and inevitable occurrence in a woman's life--with the hormonal imbalance--it is an event over which you feel you have little control.
Try easy-home-remedies.com/Signs-Of-Menopause
Menopause is more than a hormonal adjustment. It is a stage in a woman's life that is temporary and it is like the reverse of puberty, ending with no more menses.  The average age is 52 years, but a woman can experience symptoms as early as the 30's and as late as the 60's.  Hot flashes and night sweats can vary for women as can spotting or heavy bleeding. Some women breeze through menopause; others experience more severe hormonal imbalances with magnified symptoms.
The hormonal imbalances are a major contributor to the menopause stress and symptoms.  Serotonin is an essential chemical that helps regulate a person's mood swings.  With stress, women use serotonin quicker than they can produce it. When estrogen and serotonin levels decrease, the mood swings can become more pronounced.  Many woman suffer from menopause stress and depression.
There are specific health issues that women need to monitor during and after menopause.  One concern is osteoporosis, a condition where there is a lose of bone density. At menopause, bone loss is accelerated due to the reduction in the body's production of estrogen.  Studies show that the highest bone loss occurs immediately after menopause for 5-10 years. 
Cardiovascular disease is another concern.  Estrogen protects women from cardiovascular disease by increasing the good cholesterol HDL levels and decreasing the bad cholesterol LDL levels. It also increases the flow of blood through the body.  When the body produces less estrogen, the balance in cholesterol levels can change.  This can increase cardiovascular disease in post menopausal women.
5 Ways to Combat Menopause Stress
1. Accept the inevitable.
Menopause is a natural and unavoidable occurrence that happens to every female.  It is a stage of life that is triggered by physical changes in the body.   But the key word is change.  Have you heard people describe menopause as going through the "change of life?"   If you are aware that this change is inevitable, then you can  be better prepared to deal with menopause. 
2. Eat well.
Since metabolism slows with age, women need to eat less and participate in physical exercise to avoid putting on weight.  Maintain a well balanced diet to relieve stress.  Add calcium to your diet to prevent bone loss.  Take a multi vitamin supplement on a daily basis, so that you can  maintain a proper nutritional balance and help stave off hormone fluctuations as you balance your menopause stress level.
3. Exercise regularly.
Regular weight-bearing exercise, such as jogging, or walking, can help slow the progress of bone loss.  Aerobic exercise, increasing the heart rate, can help maintain a healthy heart. Exercise also is useful in maintaining muscle tone and keeping your joints flexible. Exercise reduces stress, reduces depression, improves sleep, and assists in maintaining a healthy weight.
4. Ignore youth-obsessed culture messages
Today, there is an emphasis on "youth"  and aging is not
always valued.  Beauty products, magazine publications, and media advertising often over-emphasize the attributes of youth.  Some women feel inadequate, or depressed because of the physical impact of gravity on their age and their loss of a smooth youthful appearance.  Maintain positive lifestyle habits and enjoy a new vibrant perspective for this new life chapter.
5. Consider menopause to be a milestone.
By now you have had several occasions throughout your life to determine who you are, and what you believe.  Now, with a sense of self understanding and self confidence, move on to the next set of adventures that you can make for yourself.

Try easy-home-remedies.com/Signs-Of-Menopause

Lower Menopause Stress with Life Balance Perspective