Organizing Your Workspace Helps You Gain Focus
Unmotivated to complete a project? Organizing your workspace may help the situation.  When you are working in a cluttered environment, your mind is distracted.  Take a look around your workplace.

Do you find that there are many papers and objects piled in disarray, reminding you of previous assignments, or unfinished projects?  These outdated items may be not only a reminder of past work situations, they may also indicate that you are mentally stuck in the same time period.
---
| | |
| --- | --- |
| Work with Passion in Midlife and Beyond: Reach Your Full Potential and Make the Money You Need | If you read Nancy Anderson's book, Work with Passion in Midlife and Beyond, you find that she is advocating that you get rid of distracting items that you no longer need or use. "Streamlining your surrounding will help your mind to concentrate, which in turn helps the subconscious to accept that today is not the same as yesterday." Clutter is a distraction. It stops you from moving forward. |
---
Organizing your workspace helps you stay focused to prioritize what is important for you to accomplish now.  When you de-clutter your workspace, you are eliminating physical distractions that send messages to your mind about past work situations and events.  Organizing your workspace actually helps you to stop thinking about past events and de-clutters your mind.  When you de-clutter your workspace, you are not only getting rid of unwanted papers, files and objects, you are actually removing "dead weight" that is holding you from moving forward.  By de-cluttering, it is easier for you to establish those SMART Goals you really want and feel a sense of accomplishment achieving them in your present work life.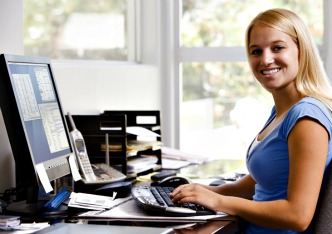 Organizing your workspace can seem like an overwhelming process, so start developing the habit by cleaning for 15 minutes on one surface at a time, a few times a week.  Once it becomes part of your routine, it is going to get easier to keep things tidy.  At the beginning you can compare how the cleaned surface looks compared to the rest of your workspace.

Keep a box somewhere nearby for unwanted items that you don't want or need anymore.  You can donate them to an organization that can offer them for reuse.  Make it a habit to go through your workspace thoroughly twice a year and keep only the things that you still use and that have significant meaning in your life.  If you have unneeded items, eliminate them.  Things that were important and necessary in one stage of your life may not be needed now, so don't keep what you don't need.

---
| | |
| --- | --- |
| Donna Smallin offers plain and simple organizing tips in her book, The One-Minute Organizer Plain & Simple. She has over 500 tips for organizing your papers and environment, but Donna also helps you learn to make organizing and maintaining a well organized environment, a regularly scheduled habit. She advises: "Organize your schedule around your priorities. The more control you exert over your schedule, the more control you will have over the direction of your life." | The One-Minute Organizer Plain & Simple: 500 Tips for Getting Your Life in Order |
---
Organizing your workspace is a necessary first step in clearing the clutter from your life so you can get a better sense of what is truly important in your life.  As you become more organized, you will gain focus on your priorities. 
Your daily schedule will become more clarified as you begin to employ effective time management strategies to accomplish your priorities.  When you feel better about yourself then you are more confident to follow your passions and build that fulfilling life that you truly want. 


Stress-free and Organized at Home and at Work