Workplace Stress Management Handling  Co-Worker Conflicts
You love your job, but not those co-workers!  Time for helpful workplace stress management strategies.  These are approaches to clarify communication and create a peaceful work environment for co-workers.  Whether you are dealing with someone who brings their personal problems to work, or tries to find ways to avoid work, or tries to take credit for your work, it becomes a real challenge. What can a sensible woman do?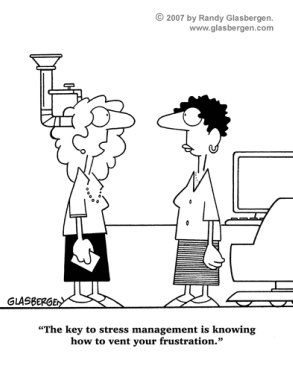 Increased levels of stress often cause effective communication strategies to deteriorate.  Conflicts erupt.  To keep the office dynamics working smoothly try these workplace stress management strategies.  Using a different strategy can be refreshing, energizing and successful. These strategies can lower office drama and restore successful dialogue.
Workplace stress management strategies that focus on effective communication can improve employee relationships. These can improve your productivity and can strengthen the employee team atmosphere.
Try the G.O.O.D. Strategy
If you find yourself engaged in a work conflict with another employee, you can try the G.O.O.D. approach.  Between the two of you, define a Goal you both want to reach.  Identify the Obstacle that is blocking you from meeting this goal.  Create a list of your Options, and choose one to use first.  Lastly, Direct the agreed upon strategies you will follow to reach the goal.  It may take a couple of tries to successfully meet the goal but this workplace stress management strategy allows you to focus on a positive outcome and allows you to be productive instead of becoming entrenched in the conflict. Developing a shared goal, recognizing the different viewpoints you and your co-worker hold, and then finding a way to work productively is a very uplifting experience where everyone wins.  This strategy is often used to comfortably defuse conflict and build a collaborative atmosphere in the office environment.
Try the FEEDFORWARD Approach
Another strategy is to provide Feedforward suggestions rather than feedback reactions.  With Feedforward you provide constructive suggestions to improve future communications between conflicting co-workers.  These suggestions are meant to create a positive change in office workers' behavior so they can better work together. Feedback encourages co-workers to react to past situations.  Marshall Goldsmith has successfully used this communication solution with various companies.  As a workplace stress management communication tool, the emphasis is on improving the future rather than dwelling in the past.  Feedforward requires employees to embrace a forward-looking focus and stay away from lingering in the failed past conflicts.
.


Try the W.A.I.T. Approach
Office conflict can promote a lot of discussion among employees. Everyone has an answer. If you find yourself contributing to this verbosity, stop and ask yourself,  "Why Am I Talking?"  It is better to let the office strife cool down some and allow some thoughtful perspectives to be put in place. Think before speaking is always a good approach. Better solutions are bound to follow.
Try the E.G.O. Approach
This is another productive strategy because you are taking the step to show empathy.  If a co-worker, is experiencing a challenging problem, provide Empathy.  Discuss the problem and set a Goal for creating a solution.  Identify the reasonable Options available to solve the problem.  Chose which option to use and move forward.  In this case, workplace stress management includes respecting your co-workers, assisting where you can and still maintaining an ability to be productive with your own assignments.  People will notice your sensitivity and your rational approach to work.


---
Be respectful of others and their contributions
People have different opinions, different talents, and different abilities. The focus in the workplace should be on collaboration, using everyone strengths to achieve the common goals. Staying positive and publicly recognizing the achievement of others is an effective workplace stress management strategy.  Worker conflict can destroy the harmony in an office and using the above 4 approaches should provide solutions to common co-worker challenges.  The workplace can be a creative, energetic, productive environment where people share in the successful company output.  Find ways to get along.

Great Resource for Career Enhancement