Lowering the Effects of
Caregiver Burnout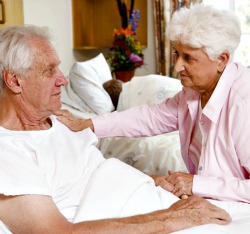 Are you experiencing caregiver burnout.  There may come a time in your life when you find yourself caring for someone who is unable to take care of herself.  It may be a parent, grandparent, or other relative.  It may be a close friend.  You're on call 24/7.  And this responsibility may be in addition to taking care of your immediate family--children and significant others. This time is a very challenging time.  Here are strategies to limit the negative effects of caregiver stress and prevent burnout.
Ways to Reduce Caregiver Burnout
Stress and burnout are potentially dangerous for your health because over time it can cause serious health issues.  Even though it may be difficult, consider ways you can reduce the stress as much as possible.  Consult your local health care providers for possible classes on caregiving techniques. Also, research your loved one's disease on the internet and consult the local Agency on Aging.
Allow others to help. There may be local caregiving resources or you may have a neighbour who offers to take care of your family member on occasions.
Stay connected with family, friends and local caregiver support groups.  Arrange social time for your own enrichment, learning and rejuvenation.
Watch your own health.  by eating healthy, getting regular exercise and plenty of sleep.
Make an appointment with your physician for your annual check up.  Let them know that some of your health symptoms such as depression and fatigue may be caused by your caregiving responsibility.
Keep your sense of humour.

If you are employed outside the home and feel you need a break to handle the caregiver responsibilities, take advantage of the  federal Family and Medical Leave Act. You may be eligible for taking 4- 12 weeks of unpaid leave annually to care for relatives. Ask your company's human resources department about unpaid leave options that are available to you.
Burnout is a real challenge for many of our population who are now caring for older family members and friends.  If you are a caregiver, please watch your own health and well being.  Be aware that depression, anxiety, guilt and anger are all side effects that can develop over time as you handle the challenges of taking care of your loved ones.

Resource for Caregiver Burnout

Dealing with Stress in Midlife