Dealing with Life Transitions Calming the Daily Chaos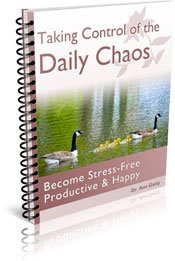 Does life seem out of control?
Are life transitions happening without your input?
Do you wonder why you can't get stuff done? 
Use my FREE COACHING GUIDE to enjoy a Less Stressful, Productive & Happy Life!

---
With this FREE Coaching Guide you will learn tips to: 
manage your daily schedule
identify and accomplish purposeful goals
reach your destination--even during life changes
Fill in your name and email address in the form below so I know that you are a real human.  Then, you will receive a direct link for a PDF download. Also, I will not add your email address to my E-Newsletter subscription list without your permission.

We are always experiencing changes in our lives and these can be difficult.  Having clearly established goals and making daily plans that you can complete, helps you feel productive and good about yourself.  No matter what.  Please let me know how this FREE Guide has been helpful for you. I have other programs available for your continued self-development and self-improvement and resource materials are added to this website on a daily basis.

Seek Help If... 
Many people are unhappy in their current life situation and want to make changes.  However, they are unsure about how to identify what changes to make and how to craft a realistic action plan to successfully achieve these changes. 

If you are thinking of making some big changes in your life or you are already in the midst of change, get help to organize your priorities, establish an action plan and collaborate with you to achieve these fresh new goals.

If you are getting close to retirement and you are worrying about the impact of this life change,  you need to develop a set of clearly defined strategies and a new set of goals to help ease the life transition and establish a new lifestyle for this new stage of your life.

If you are experiencing changes in your family living arrangements, less people now living at home, you may find a desire to downsize and establish a smaller housing arrangement.  so  eliminate your stress during this time of transition.  During such life transitions, we will be looking for opportunities to construct the future of your dreams.
Dare to Dream as You Embrace Life Transitions