Praying Can Lower Stress
In Our Lives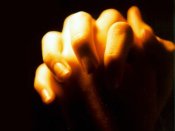 Praying can lower stress in our lives and is one of the most important activities we perform.  Its importance can not be understated.  It is a source of understanding, maturation and comfort.  Many times we find that the hectic schedules we follow leave us little time for reflection, and we often become numb to the events around us.  
We seem to be acting simply on auto-pilot trying to finish the tasks before us and get through the day.  However, if we take time to enjoy a quiet conversation with God, we will enjoy a more meaningful life filled with a richness that only he can provide.
To break the mind-numbing, auto-pilot habit, introduce a time for meditation into your daily schedule.  Start each day with ten minutes of prayer  and repeat this routine before you sleep at night.  Pausing to reflect will help you break the habit of acting without thinking. But, what are the benefits?  How does this help us?  Listed below are three reasons we benefit from praying regularly.

Praying can lower stress in our lives because we build a secure relationship with God.

God wish is that we create an on-going relationship with him.  he is always there and available.  Even when we are unaware he is speaking directly to us. Through the use of our conscience, we know the difference between right and wrong.  Also, he has sent the Holy Spirit to be our guide navigating through the daily situations here on earth. We know God's example through his son.  As we come closer to him, we begin to know him better, to love him more and to develop more ways to serve him.  Through this communication we develop a closer bond with God and begin to know him more intimately, and then we begin to understand the role he has carved out for us here on earth that glorifies him. 

If any of you lacks wisdom, he should ask God, who gives generously to all without finding fault, and it will be given to him. James 1:5

Prayer is our communication vehicle to learn, mature and grow from the wisdom God provides.

Our communication with God is always listened to, although sometimes, not answered the way we expect. Perhaps we are unknowingly giving instructions to God.  When we communicate with God, we begin to learn more about the ways we can better grow to negotiate with the world and people around us.  By continuing to regularly ask for God's perspective, we begin to discern more of his desires for us.  Praying can lower stress. By loving God above all else, our desires will become what he desires for us.
 
Delight yourself in the Lord and he will give you the desires of your heart.  Psalm 37:4
May he give you the desire of your heart and make all your plans succeed.  Psalm 20:4

Talking with God brings comfort in our life.

Having a relationship with God is allows us to never be alone.  God is always with us and will provide a direction for the decisions before us.  No burden is too heavy for God, and through prayer, we can gain the security of being in his company.  Another reason that praying can lower stress in our lives is that there is no isolation with our relationship with God. 

Come to me, all you who are weary and burdened, and I will give you rest.  Take my yoke upon you and learn from me, for I am gentle and humble in heart, and you will find rest for your souls.   Matt 11:28-29