Stress and Stress Management


Through the Eyes of a Therapy Dog
Beretta is a certified volunteer Therapy Dog who visits hospitals each week. Offering emotional support, he helps people deal with their stress and stress management challenges. Beretta is a Great Dane—a gentle giant—weighing 130 lbs and standing 36 inches tall at the withers. He is calm as he walks into each hospital room, with his soft brown eyes communicating a sense of comfort and understanding.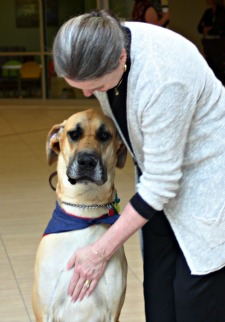 Although he is big, he doesn't project intimidation as he quietly walks to the bed or wheelchair, and gently nudges the patient. Within a few moments he often is burying his head in a patient's lap or nestling it at the bedside so that the back of his long, velvet-like ears can be scratched. Beretta enjoys his visits, boosting morale for both patients and hospital staff who look forward to his weekly visits. Such experiences have taught both Beretta and me a great deal about helping people handle their stress and stress management.
Here is what we've learned.
Hospital patients experience many different levels of stress and anxiety. Assistance in dealing with their stress, offered by a comforting non-judgmental companion, is often a very welcomed treat.
Beretta offers patients opportunities to pet him in a calm setting which lowers their levels of stress. They enjoy having a conversation with us recounting fond memories from their past. For a brief time, as they stroke the soft fur of the dog and interact with his personality, their attention is diverted away from their current situation. The dog offers a brief respite.
Some patients, who are withdrawn, have found it more comfortable to respond to this gentle giant than other of the medical professionals attending to them. Petting a dog can be very therapeutic, and studies have shown that interacting with dogs can lower blood pressure, promote relaxation, and relieve anxiety and stress in patients.
---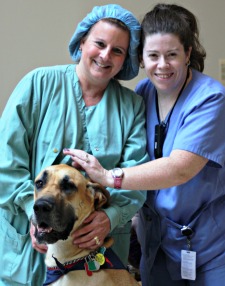 Hospital staff members need emotional support as they carry out their duties. Beretta is a weekly cheerleader who arrives to visit and bolster their moods. He has become a regularly scheduled volunteer who now is quite relaxed and comfortable visiting the rooms of the hospital floors he regularly visits. Sometimes it is difficult to determine who benefits more from the therapy dog visits--the staff or the patients!
With one step at a time, Beretta hopes that his visits to hospitals can provide comfort and relaxation to those in need. His demeanor helps patients leave behind their stress and stress management can be achieved with a wagging tail and nuzzling nose. 
Therapy Dog, Beretta, lifts veteran spirits.
Chip's Advice on Stress and Stress Management