Handling Stress
What I Learned from Beretta
Handling stress is always an issue for women in our busy world. Yet, my  young Great Dane provides a lot insightful for us, if we are willing to listen.  Recently, we trained for him to become a member of the Canine Good Citizenship Program.  The program, sponsored by the American Kennel Club, embraces basic good manner skills for dogs.
Beretta was training to show proficiency in 10 different skills including sit, down, stay, walk well with your owner, allow others to pet you, and engage well with others.  We spent 6 months preparing for the test and during that time, I learned from Beretta some wonderful advice about handling stress.
Work Hard:
We spent time going to dog training classes and practicing our sit, stay, down and heel commands.  We worked on "leave it!" when other diversions caught our attention.  By staying focused on our work and concentrating on learning the skills, we found handling stress easier because we were focused, concentrating and feeling the success of our accomplishments.
Never Give Up:
There were days when we just forgot stuff.  It seemed so much more fun watching the birds, digging up plants and being a puppy.  Soon we would try again after our play time and try to remember where we were going with all of this training.  Stress can increase when things start to backslide, but Beretta always showed his puppy side and kept his optimism high.  Soon the anxiety dissolved, and we were back on the right track.
Listen to Others:
During our testing, Beretta had to listen to the evaluator and do what she requested.  By being prepared from our many training sessions and by being such a sweet-natured dog, handling the stress of the testing situation seemed to be something he took much more in stride than I did.  Great Danes are a sensitive breed, and he showed his sensitivity that day.
Play Nice:
Beretta is a big dog, and it can be easy for him to overpower a given situation, the people handling him, or the dogs he is meeting.  Playing nicely and with gentleness is a necessity and helps others handle stress they feel from being unsure of such a big animal who can look you square in the eye!
Be a Giver:
This is the essence of the Canine Good Citizenship Program.  Giving back and being courteous to others, offering unconditional support for those around you becomes one of the reasons for participating in the American Kennel Club program.  Beretta is a giver who is always trying to please and shows affection toward everyone he meets.  Beretta truly shines as a compassionate, giving, happy dog.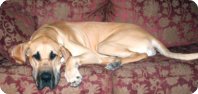 Beretta passed his Canine Good Citizenship Test and has become a licensed Therapy Dog.  When individuals are in need of comfort due to illness, tragedy or other dramatic life situations, there is no better companion than a dog like Beretta in handling stress.

Pets Provide Stress Relief for Many People