Stress on Teenagers
Putting  Bad Days in Perspective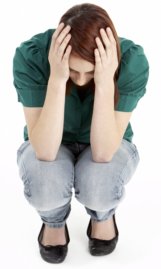 Life always creates stress on teenagers.  A teen's daily life is full of ups and downs, trying to juggle friends, family, school and other activity demands.  And some days seem to go better than other.  One thing to monitor is what your teen thinks of herself.  Her own self image can take a real beating during these adolescent years.
Friends take up a lot of time and trying to fit in school assignments and family responsibilities, a possible job and keep up with friends takes a lot of time.  It is not unusual that with all of the drama of their teen lives things can spiral downwards sometimes. Stress on teenagers often comes from peer pressure.
When your teen has experienced a bad day—maybe having an argument with a friend, doing poorly on an academic test, not being picked for the school musical or tripping in front of everyone on the way to lunch—it becomes hard to forget.  Teens are likely to relive the situation over and over getting more and more upset.  Stress on teens tends to intensify over life situation that went badly.
When life seem to be cruel, teens often believe that they are the cause.  They start blaming themselves and developing negative opinions of themselves.  Their self-image takes a hit.  They start comparing themselves with their peers and in their minds, fall short.

If you start hearing your teen expressing negative comments about herself such as "I'm stupid, so of course I got a bad grade," or "No one likes me because I am fat," find ways to intervene and help her shift the negative judgment.

Stress on teens can be reduced by quieting that inner voice that always seems to offer an unwanted negative opinion.  Changing that inner voice from a negative commentator into a positive cheerleader takes some time and thoughtful reflection.  What causes the teen to always view things negatively, and how realistic are those opinions? 
Does your teen realize that she is being mean to herself?  How can she replace that opinion with a more positive reflection? If things are going poorly, can she engage in another activity to divert her mind from reliving the embarrassing incident?
Have your teen identify at least 5 things that she enjoys doing with their free time.  Also stress on teenagers can be reduced by talking with other supportive friends and family members.  There are days when you teen will need a healthy dose of positive reinforcement.  Learning how to shift negative times into positive outcomes is a great way to reduce stress on teenagers. <br><br>
Life will continue to throw teens a curve ball from time to time.  Piling on negative judgments will only magnify the situation.  Learn from the situation and move on.  Keeping things in perspective for teens can be difficult when trying to handle the social and academic pressures. Stress on teens can be reduced with parent's help. Try these teenage stress management tips to help your teen guard against tarnished memories.

Dealing with Teen Stress Overload