How Daily Routines Can Help You Handle Change Better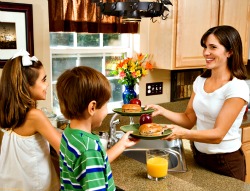 When changes occur in your life, following healthy daily routines can help you combat the stress you may be experiencing.  These routines allow you to create your own authority over a day that, otherwise, may be fraught with demands and obligations causing you stress. Review how you handle change. Here are two examples of how routines can provide positive contributions in your life.
How do you show up to greet the day?
Woody Allen tells us that "eighty percent of success is showing up."

Following a morning routine is a great way to start your day energized and focused.  Set your alarm for an hour earlier than you usually do to give yourself an hour of self-time.  During that hour, do 20 minutes of exercise, take care of your bathing and hygiene, eat a nutritious breakfast and allow yourself a chunk of quiet contemplative time to connect with your own thoughts.  With this routine, you will begin your day positive, relaxed and ready to concentrate on the tasks before you.  Such a habit allows you to be prepared for whatever might occur throughout your workday, and you will be less stressed over curve-balls that may come your way.

How do you retire to end the day?
After a hectic day, how do you unwind and prepare for a restful night's sleep?  Getting a good night's rest is important for us to restore our energy, relax our minds and allow our bodies to recharge for the next day.  Following a daily routine for retiring to bed allows you to close out the day in a calming fashion.  Taking time to prepare for bed, like you have your children prepare for bedtime, with a little reading maybe, some soothing music, aromatic candles and soft inviting clean sheets, is a great way to soothe away the stress.

Getting into healthier daily routines can take time to develop.  These routines become habits, and habits require discipline and commitment to create and maintain.  Habits are a core part of life's status quo, and when the status quo changes, habits are an integral part of the change.  Make certain the habits you alter are for positive and healthy changes.

Changing an Old Habit Without Stress
There are times when changes in your life force you to change habits that you have been following.  If you find that you need to change your daily routines—for health reasons, career changes, or family obligations—be thoughtful about how you are going to alter things.  Follow these 3 steps.
Write down your ideas in a journal about how you will incorporate the life change and build a new routine.
Develop an action plan for how you will create this.
Give it a 30 day trial period to see that it works. 
Changing the routines you follow can create its own level of stress if you are not careful.  When you formulate a new direction and way of doing things, you can also find it refreshing with a new start.  Make certain the daily routines you follow are habits that provide a sense of stability and contribute to a healthy lifestyle.  Then, the transitions which occur throughout your personal and professional life can be handled in a more positive and proactive manner.

Be yourself, everyone else is already taken. ~Oscar Wilde