Cooking for Relaxation
and Healthy Living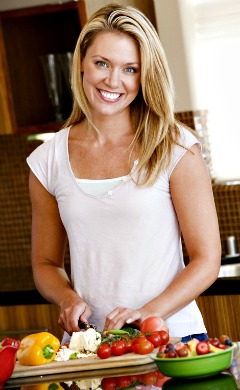 Cooking can be a great form of relaxation if you take the time to enjoy the activity. For many of us,  meal preparation is a daily necessity.  Yet why not use it as a time to spend time with family members as you prepare and enjoy the meal? 
Arriving home at the end of the day with  no strategy for meal selection, let alone preparation adds additional stress to your life. You may think that you have little time to prepare a nutritious home-cooked meal for you and your family.   But that's not true.  Let's learn how to transform cooking into a time for relaxation.
Take Advantage of Menu Planning
What's for dinner? It is a question that is asked every day! Do you struggle with the answer to that often asked question?  You may be struggling with meal preparation because at the end of the day you have too little time and too little energy left. Often family members are busy with sports, school or volunteer activities, and it is hard to find time to sit down to a meal together.
Life seems a little easier and less stressful when you arrive home knowing what you are going to prepare for dinner.  Try planning your meals in advance so that you can relax and unwind rather than stress over deciding what you're cooking.  Here is why we suggest menu planning.
A menu plan saves time.  Planning a week's worth of meals at one time can make grocery shopping easier and with only one trips to purchase necessary ingredients. Planning daily meals ahead can eliminate the last minute dilemma of finding a thawing a frozen entree of ordering from a fast-food store.
A menu plan saves money.  By shopping with a weekly meal plan, you can coordinate food sale items into your menus, buy items in bulk when available, and avoid impulse buying. Also, you can remember to use leftovers from one meal in another meal later in the week.
A menu plan improves nutrition.  When planning in advance you are more likely to create more complete, balanced meals that include vital nutrients  from the food pyramid  categories. Healthy eating is a proven way to relieve stress.

How do you develop a menu plan?
Start by planning one week's worth of dinners.  Refer to the weekly food store flyers and list ideas for seven healthy, nutritious dinners that takes  advantage of sale items, your pantry-stored items and your own creativity.  Consider the time you will have for each meal. If you are coming home just in time for dinner, plan a quick meal preparation. Slow cookers, roasters and microwave ovens are convenient tools for meal preparation and varying schedules.

Prepare extra meals ahead. Double quantities for your favorite recipes. Instead of making one casserole, make two and freeze one before cooking. Label carefully to remember what you have stored. zKeep a written journal of those menu ideas that worked well, those foods that kept well in the freezer and those menues that were the most popular so you can use them again.
 Cooking as a Form of Relaxation
If you can set aside time in the kitchen preparing meals that you enjoy, you may find that meal preparation and menu planning can become a stress relieving hobby in your life.Cooking can be a form of relaxation because you can get rid of anxieties by focusing on chopping vegetables, kneading bread, or icing cookies.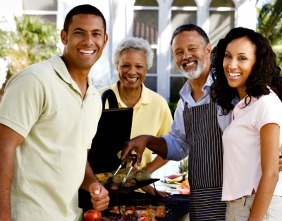 Cooking can provide many ways to get lost in thought, to meditate or transport your thoughts back to special memories from your past. Maybe you look forward to cooking a meal that was your family's favorite or you are cooking a meal that contains your comfort foods. Your kitchen or outdoor barbecue can be a place to gather with family and friends. Taking time to cook in the kitchen can be something to look forward to. Even with only a little time, put on some music, light a scented candle and enjoy this fun part of the day. After a busy day, you've earn this time for relaxation.
Stress Management Tools for a Healthy Lifestyle