Need a Way to Relieve Stress?  Enjoy a Hobby. 
Looking for a way to relieve stress?  Pick up a new hobby! A hobby is not only a great stress reliever, it is a fun way to take a break from life's daily demands.  Focusing on a hobby diverts your attention from all that you have been dealing with in your day.
 
There are other benefits in pursuing a hobby.  There are no time constraints as you learn and enjoy your hobby.  You are your own boss.  You choose who you will share your time with or whether you need solitude to re-energize.  You set your own rules. You are having fun doing something you enjoy and getting satisfaction from the results.
Choosing the Right Hobby for You
When searching for a hobby, consider your interests, your lifestyle, and your budget.  Find something that interests you and that you want to continue learning about, become more proficient in, and maintain a passion for.  Research your hobby ideas by checking the internet, your bookstores or visit local clubs that engage in that hobby.  Since a hobby is a spare time activity, remember that you are also looking for this creative endeavour to be a way to relieve stress so you want to choose something that balances with your lifestyle.  If you  keep a very specific time schedule with your lifestyle, you do not want to choose a hobby that requires more time than you have available.  Make certain that you can afford the hobby you  are considering.  Some types of hobbies can become very costly.  Be honest with yourself and ask, do I really want to spend my time doing this or am I just pretending I like this because I know other friends who enjoy this hobby.  Pick a hobby that you enjoy.  The goal is for you to find a way to relieve stress as you enjoy the activity.

Four Hobby Examples
Reading.
Reading is an inexpensive hobby.  Libraries, bookstores and online selections are a great source for finding books about your favourite topics.  Or, you can join a book club and share your ideas with others as you enjoy their company.  Don't forget that libraries are now building collections of audio books for you to enjoy while driving. What a way to relieve stress!! Books are portable and can be read in the quiet of your own home or on a nice getaway vacation spot. 
2. 
3.   

Gardening.
Gardening is another very popular hobby pursued by women. Gardening is a great way to enjoy the fresh air and sunshine as you create your own planting schemes and devise your unique three-dimensional living picture.  There is a sense of accomplishment and pride when you actually see things growing and can harvest vegetables or fruits from your own labor. Check the internet to find some great gardening websites or look into local garden clubs who are looking for new members. If you want to get back into the classroom, check with your local community college to see what noncredit courses in gardening techniques might be available.
Cooking.
Cooking can be a hobby which is fun, creative and practical. Recipes can be found everywhere, from the internet, to magazines, to television shows, to newspapers, to friends.   Make certain you carve a block of time to relax as you are cooking. There are gourmet cooking clubs and there are community college classes but you may prefer chopping vegetables and mixing ingredients in solitude, just to have some meditation time. Some women have commented that kneading dough is a great way to relieve stress. The benefit of this hobby is that you get to enjoy eating your creative results.
Photography.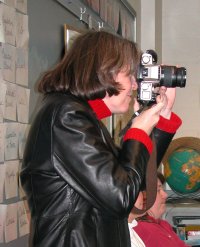 I have enjoyed photography as my hobby for several years.  I started taking pictures of my kids in athletics and still enjoy taking action shots today.  Digital photography has lowered the cost of taking pictures and purchasing prints.  With the increased popularity of scrapbooking, taking great pictures for posterity has increased.  Technology has advanced the photography hobby by providing cameras on the smart phones so that  photos can be taken anywhere and no "memory moment" is lost.

---
Learn from My Mistakes
Watch setting deadlines. I have deadlines all day at work and then I started a scrapbooking project and decided I had to complete it by a certain date.  Well this was no way to relieve stress and limited my creativity because I was more interested in completing a page spread quickly rather than enjoying the ways in which I could put the pages together.  I was putting unreasonable deadlines on myself, so I re-adjusted the whole situation and eliminated the deadline.  A hobby is to be enjoyed.  
Don't overcommit. Last holiday season I decided I would bake a variety of cookies for family and friends. However, I didn't take into account how much time it takes to bake and took on making many more dozens of cookies than I had time to complete. Suddenly, I was stressing over how to get the baking done. In the end, I whittled down the list to a manageable number of cookies that I could complete.
Don't be responsible for something above your skill level. Gardening can be as easy or difficult as you make it but some particular plants are more difficult than others to grow. Actually, roses can be very challenging if you don't know what you are doing. I have lost many rose plants because I did not have enough time, patience, skill and knowledge to maintain the necessary watering schedule, provide the proper fertilization or apply the careful pruning. Although it sounded great to have a rose garden, I decided to work with more forgiving plants such as day lillies and hostas. I need more horticulture training before tackling a rose garden.
Hobbies for women offer many options from which to choose. Remember to choose a hobby that fits with your lifestyle and budgetary limits, as well as physical health considerations.  Once you find your niche, you will begin to enjoy the benefits of satisfying your creative side as you enjoy a way to relieve stress!!