Stress Management Relaxation Technique: Using Nature Sounds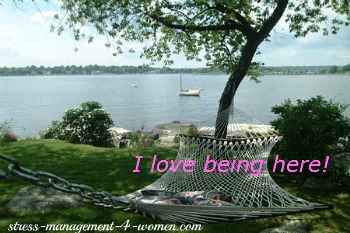 One stress management relaxation technique that often goes unnoticed is the use of natural sounds from the environment.  The sounds of a fountain, gurgling brook, ocean waves, or forest rain can be very soothing.  These sounds allow us to slip into a more relaxed state of mind by calming down our thoughts and actually influencing our brain waves.  When you've been having a hectic or stress-filled day, this simple relaxation technique can often provide the remedy.
We have described several stress management relaxation techniques on other pages of this website, including meditation, guided imagery and yoga.  Another way to relieve stress is by practicing a hobby you enjoy.  However the sounds from nature can be very calming and comforting if you are struggling with a sense of overwhelm.  Using some fragrant aromatherapy can be a nice addition to the use of natural sounds.

Listen to some of the sounds below and take a few minutes to step away from your daily challenges to recharge.  Imagine the scenario of where these sounds are happening.  Practice some deep breathing techniques to regain your sense of balance and calm.
The use of soothing sounds has long been used as a relaxation technique and we are sharing a source for your enjoyment and personal benefit. Relaxing Nature CD's and listen to the available ways you can relax in the comfort of your own home or office. Have a listen and experience your physical body relaxing and your mind calming.
Try the SOUNDs of NATURE CDs - Relax to Ocean Waves... Chill out to Thunderstorms... Fall to sleep in a Rainforest. Brand new nature CDs bring the outdoors to your ears, with new 3D soundscapes. Take the time to relax, regenerate much needed energy and refocus.  Calm doesn't have to be something you put off until you have time.  Start today and learn to make relaxation techniques a daily habit.  Calm starts here.  Today.