How A Work at Home Mom 
Can Create Business Success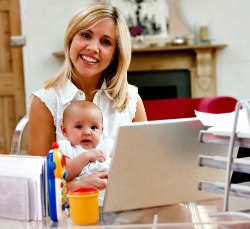 An increasing number of women are choosing to become work at home moms.  Many women look for a comfortable work/life balance between family and career. If you decide you want to establish a home-based career, here are some points to consider. Clarify why you are pursuing a home-based business and what business enterprise best fits your abilities and passions.  Then develop the action plan and business strategies.  There are many mom entrepreneur examples to inspire your own creativity. 
Know Why You Choose A WAAM Life.
Do you want to earn money while staying at home with your children? A WAAM life might be the answer.  Work at Home Moms (WAAM) can provide monetary income to cover household expenses and be at home to take care of their children.  Statistics show that women have entered the labor force in growing numbers.  However, children still need to be taken to the doctor, shuttled to sports activities, escorted to music lessons and elderly parents still need care.  For many mothers, the decision to be a work at home mom provides the necessary flexibility and the contentment of being their family's caregiver. 

How a Home-based Career Can Thrive.
Define your passion. What do you love doing?   When deciding on a home-based career, you should choose something for which you have passion. You are going to be spending all of your business time focused on this, so choose something you enjoy and something about which you want to continue investing your time and energy.  Find the business opportunity that fuels your passion and allows you to earn an income.

Design Your Action Plan.
Planning is the most important part of any business venture.   Take the time to plan carefully and objectively.  If you need to upgrade your skill set to manage your new business venture, include that in your planning.  Remember that you are starting a business and there is no such thing as a "get rich quick" scheme.  It may be more realistic for you to continue working at a job part-time as you start your home-based career.  Or, you may have saved money to cover expenses during this business start-up as a work at home mom.  Choosing a business that embraces your passion will get you through the tough times.  Check out this article on Financial Stress Management Tips for more advice.

| | |
| --- | --- |
| As you define your business plan, you need to be as specific as possible. Not only do you need to know your passion, you need to specifically define the niche you will be creating and define who you want as your target audience. The One Page Business Plan for Women in Business, takes you through the steps of creating your business plan. Having a well defined blue print to follow is essential to your success. As a work at home mom, take time to find a niche that you will enjoy over the years. Success can then follow. | The One Page Business Plan for Women in Business |
---
Optimize Your Work Environment
 As a work at home mom, you will find that there are many distractions for you to handle as your pursue your new career.  Having an established work location within the home will help you segment your work from other family  and personal responsibilities.  It may be impossible to shut the door on the rest of the household, but having a designated area for you to keep work files and materials is a safeguard from risking the possibility of things getting lost or misplaced. 
The kids will soon learn what areas are off-limits for them in the house.  In this way, business activities become secure and will not be tampered with accidentally.  Keep regular business hours so that the family is aware when mom is working and should not be disturbed.  These hours will no doubt change as children grow and have different schedules and needs, but having the work schedule keeps kids aware to leave mom alone and keeps mom focused on her work.
| | |
| --- | --- |
| As you are building your home-based business, you will find that 101 Ways to Enhance Your Career is a great resource. 101 authors have created this book to encourage, inspire and guide you on your path to actualize your career objectives. With innovative strategies, shared anecdotes and thoughtful advice on a variety of career related topics, this book is an insightful companion as you create your future. Pick up a copy by clicking the banner link below. | 101 Great Ways to Enhance Your Career |

Believe in Yourself.
As you develop your new home-based career, self doubt is liable to creep into your mind's eye occasionally.  However, if you have well-defined goals and if you remind yourself that growing a business takes time, you should be able to cast self-doubt aside.   A work at home mom can sometimes feel isolated so guard against that by building a group of adults with whom you can converse.  
 People are very willing to help and engage with you in your efforts to succeed, but you truly need to know what you want.  Specifically, what do you want to achieve?  Then go do it.  Check out this FREE RESOURCE BELOW!